Skip to end of metadata
Go to start of metadata
The CUCMBE is ready to relate with PrivateServer using the SIP Trunk, but still it can't until we create the same configuration on the PrivateServer itself.
2.1 Prerequisites
If you came here then all the necessary prerequisites are matched.
2.2 PrivateServer configuration
You can refer to PrivateServer management documentation for creating a SIP Trunk. We are going to explain here which specific values need to be set up in order to create it properly.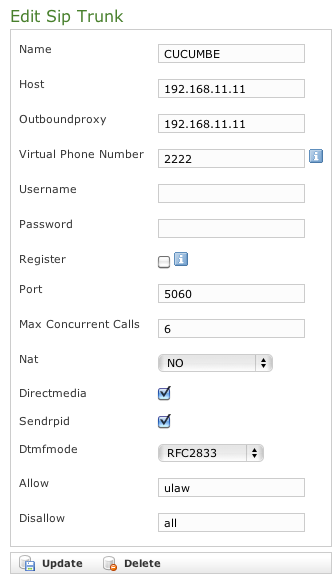 In the fig. X you can watch a plain example of a working configuration. It's major differences from a standard one is that:
check out the Register option
Dtmfmode value must be RFC2833
Allow codec is ulaw only
Disallow codec must be all

The Virtual phone number is optional and can be left blank.
After you're done with the Inbound you have to check that the Outbound section has either a dialing rule set to let the trunk be used or the trunk set as the default one.